Content is a king which has a sort of magnetism which attracts huge traffic to your site and converts it into subscribers and customers. Even, if you can't get leads or conversions, content is still important, as it's an expression of you or your brands entity. Your site is your home on the internet and your content is analogically your stake in the ambiance. I already know what I'm telling you, that's why, I focus on my content with austerity. Though, I always maintain, that this strictness about my content shouldn't inhibit the creative aspect. If you're not confident about your content, then don't worry, I'm here for you. I can write the content for you.
I can write content on your site. If you're not confident about your content or are pushed with workload, or just need a writer in any specific discipline, I'm here for you. Moreover, What I charge will be decided on the basis of your metrics. This means, on the basis of evaluation of certain factors, my remuneration would be decided.
I've worked with various clients across the nation. That has also given me immense expertise in branding and about how the market works in the creative industry.
Moreover, I've been indulged in ghostwriting for various other clients as well.
Still doubtful?
Or perhaps, you might want to check my client samples?
Okay, you want to talk to me, regardless; right?
Fill the form below, I'll get back to you.
Content Writing Service Breakdown
1. For Businesses and Professionals
1.6. Content Marketing Strategy
2.2. Essays, Articles, Assignments, etc.
3.1. Memoranda, Circulars, Notices, Orders and Agenda
3.3.1. Thank You Letters
3.3.2. Sympathy Letters
3.3.3. Congratulatory Letters
3.3.4. Condolence Letters
3.3.5. Obituaries
3.4.1. Enquiry Letters
3.4.2. Order Letters
3.4.3. Complaint Letters
3.4.4. Sales Letters and Circulars
3.5.1. Invoices and Proforma Invoices
3.5.2. Delivery Letters
3.5.3. Credit and Debit Notes
3.5.4. Collection Letters
3.5.5. Banking and Insurance Correspondence
3.6.1. Interview Letters
3.6.2. Shortlisting Letters
3.6.3. Appointment Letters
3.6.4. Job Description and Vacancy Communication
3.6.5. Handbooks and Manuals
4. Public Relations (PR)
4.1. Backgrounders
4.2. Press Releases
4.3. Report and Feature Writing
4.4. Brochures, Flyers and other adverts
4.5. TV, Radio and Show Scripts
4.6. Speeches
4.7. Fact Sheets
5. Proposal and Grant Writing
6. Technical Writing
For Busnesses and Professionals
Articles and blog posts are the best ways to interact with your audience. Posting consistently would keep your SEO efforts on top.
I can help you with this.
If you've your website, then your pages should be perfectly optimized that they obtain reach and facilitate easy understanding and gist formation for your readers.
I've got your covered this time as well.
I write copies that sell. I can stimulate and communicate your brand idea with each of your products.
I can write scripts for your youtube channel, reels or any other video content sharing site.
Communicate well with your well established audience. Email marketing is absolutely necessary to hold and stick your audience to your platform.
Content Marketing and Strategy
You might have content with you but might not have the marketing capability. 
I'm here to help you with marketing and creating strategy to market your content.
I can also manage your Instagram, Twitter and Linkedin accounts efficiently. Get my social media management service.
I'm here for even your off page content requirements. I can write guest posts and pitch websites of your niche as well.
You might be a good content writer. You might have content with you.
But, you might be incurring some grammatical and structural errors. You might be writing content that is nice but not industry competent or SEO compliant.
I'm here to help you. I can do the editing and proofreading work for you.
English to Hindi and Hindi to English
I'm equally versed with both Hindi and English. Hence, I offer translation service in both the languages.
You might also find Nepali and Sanskrit in this list from next year, if I'm fortunate enough.
I can look after your content marketing and strategy and guide you for the same. I can counsel you about your branding and marketing as well.
I can manage your Facebook, Instagram, Twitter and Linkedin pages. Managing many social media handles can be quite hectic for small entrepreneurs.
For samples, you can check my account www.instagram.com/biznoin . It is my furniture business and on its social media I've created a lot of memes, reels and graphics.
Getting on with every day's petty tasks is hectic for every entrepreneur regardless the scale of his business.
I can be your virtual assistant and can help you with any sort of content, email communication, managing your social media and creating graphics (on canva). 
Even having someone to do these basic tasks for you is a big timesaver. You can put that time to make more money or simply into recreation.
In B2B, one is supposed to reach to businesses since such businesses are potential clients. While, in B2C or D2C, even any random person walking down the street can be potential customer.
Hence, the content for B2B websites is supposed to be very formal and straightforward.
Much has changed since a century. Especially, when we talk about the scope of communication. The main difference in this domain is that emails and social media have almost replaced the traditional postage system, which we now only use when we have to send some stuff or important message.
Many people tremble writing formal letters these days, which was a daily routine for the past generations.
But your bro has got you covered.
Be it about an application for job, cover letter, application for any purpose or even a love letter, I can write anything for you.
Essays, Articles, Assignments etc.
Do you get homeworks and assignments? Everyone does.
At times, they get boring for students who're running short of time and have other commitments alongside.
I can help you with this.
Every other college assignment requires you to give presentations. Be it about finding or creating content, making a PPT or help you to be prepared; you've my help.
Be it about your career or about starting anything online, I'm here to help.
I've deeply understood our country's educational infrastructure, have learnt for  dozens of wrong decisions myself, hence can help you better.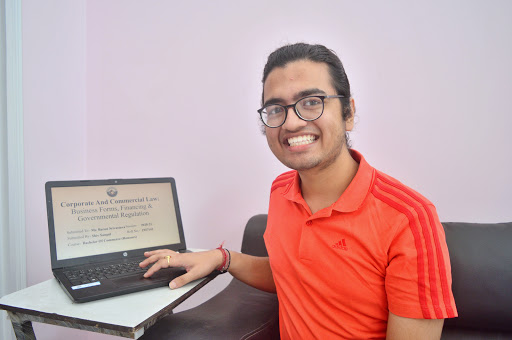 These days, business is more of paperwork than business itself. Following are content writing services I offer for the full fledged businesses.
You can work with me on freelance, project or monthly basis for business correspondence services.
Memoranda, Circulars, Notices, Orders and Agenda

All these are media to inform people about something that is either going to happen or has happened. 
I can help you research for your business. What is researched and not reported is worthless. Every activity your business does is supposed to be recorded in a report for better decision making and organisation.
These letters boost goodwill of an enterprise that it cares about its stakeholders.
Whether someone of the company has achieved something or has been unfortunate, company is liable to complete its social formalities.
I can write the following letters for you.
Business is all about purchase and sale, and profit and loss.
To do this, enquiry and order are two mandatory stages. Where things do not go smooth, complaint is also inevitable.
I can write enquiry, order and complaint letters for you.
Sales Letters and Circulars
Letters to be written by the accounts department seem like a complicated affair. It involves dealing with banks, insurance and financial institutions. Further, delivery letters, invoices and credit and debit notes are also supposed to be crafted. To follow up on your debtors to pay back is another headache. I can do all of this for you.
Invoices and Proforma Invoices
Banking and Insurance Correspondence
Correspondence with Government Departments
HR is one of the most paying and prestigious sector for jobs among the candidates. Alongside, it is also stressful for many employees of this department. 
They are supposed to recruit, shortlist, interview and appoint candidates; keep their records, and hear their grievances. 
I can do the correspondence required in this domain.
Job Descriptions and Vacancy Communication
Public Relations is a tool for connecting with the public. Unlike advertisements, such connections developed are indirect.
Backgrounders precede Press Releases and are basically articles which encode the ideas to be communicated via the press releases.
Releases can be of any type, using any media.
They are important while releasing anything in news, TV, Radio and shows.
It depends more on what a company wants to establish a reputation of and what it actually wants to communicate.
Report and Feature Writing

Anyone can write report, but only a selected few can give direction to the report for intentional communication.
Feature writing is something where half of the self proclaimed content writers dry up.
I can help you with both.
Brochures, Flyers and other adverts
For graphic designing, I have an assistant, but adverts these days are not just about what can be seen, but read as well.
TV, Radio and Show Scripts
Dialogue is my another specialization. 
Not just I have written scripts for a youtube subscribed by millions, but also for my own podcast where I have talked with many eminent people from this country and beyond.
I can help you with scripts.
I have been a winner of many debates. I know which point at which point casts impact.
I can write speeches for you. Your ideas, my impact.
A fact sheet is a document that bears the facts of a products.
Communication is important here. Arrangement of facts on the basis of impact is next.
Proposal and Grant Writing
When any organization (Usually an NPO or NGO) gets funded by any other entity, it is known as a grant. To seek a grant, a formal process is encouraged. That process is known as a proposal.
Proposal is a letter which explains about the project for which the grant is required.
Hiring a content writer specialized in this can increase the chances of approval of the grant.
Not everyone is able to read the technical details. For this, a technical writer is required to write such details in a simplified manner which are easy for laymen to comprehend.
Graphic Designing Service
I have collaborated with some graphic designers through whom I am able to provide you quality graphic designing services.
So, the next time you're looking for any graphic designing service, we're the ones you should reach out first things first. Rates are negotiable on the basis of the project.
Reach out at shivsangal@gmail.com.
If you want to see some basic social media graphics, you can check my business Instagram account:  www.instagram.com/biznoin .
Following are two samples of graphic designing, our freelance designer Darshan felt glad to share. 
Note: These works are already published and used by our designer. Using them without prior written permission is not allowed.