It's so sad that I had been absent for so many days. Actually I was misguided, caught along the wrong track and was eventually distressed. This caused me to take a long break from blogging. My last post before this was of June and look it's the last of August now. I'd me happy to tell you that my previous blog is nominated for Indian Blogging Awards 2017. You too can vote for me here.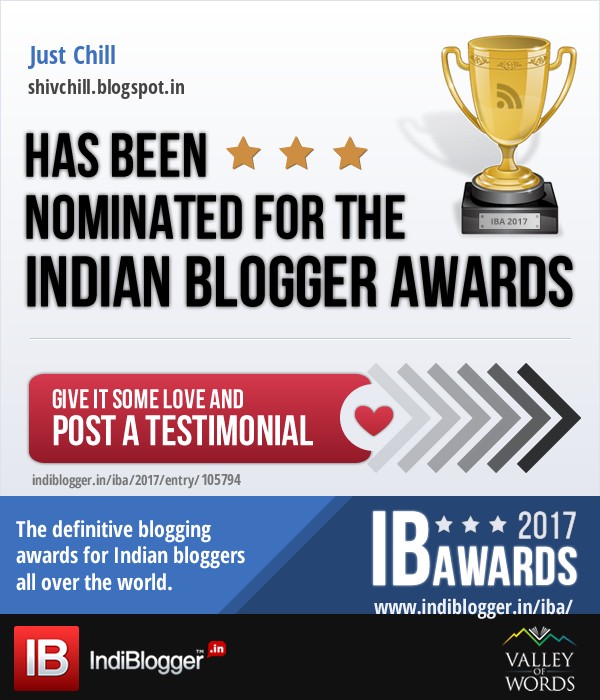 Who Am I?
Well the question is that why was I distressed. I wanted to monetize my site. But the pageviews and the subscribers were not encouraging. I felt the lack of motivation. But I took control of both myself and the condition and came back. So today I'm going to tell you Who am I in real. 
My name is Shiv Sangal. But Shiv Sangal isn't a name with which you come across everyday or whose blog and other articles are popular worldwide. I blog but still I'm not that popular like those big world famous bloggers who earn millions monthly.
Still I feel it deep in my heart that there must be one big voice which must fight against the ills of the society. I need and believe to promote that the power of the teenage segment of the society needs not be underestimated.
For getting introduced with me, you must read the tagline of this blog.
Do you get there a phrase 'lad of sixteen'? Do you know what that means?
I'm telling you about it but I must at first tell you that from where did I get the phrase from. I borrowed it from The Treasure Island by Robert Louis Stevenson.There the protagonist Jim Hawkins was adorned with the same phrase :
Lad Of Sixteen
Once my friend who is a regular reader and aware of my blogging mania sarcastically commented on this line, he called 'lad' the 'Laat Sahib' in hindi. In hindi 'Laat Sahib' means a person with bossy personality. Bless that boy.
Well I mean to tell you that reading this phrase from that novel at the age of eleven made me dream about my own life at sixteen. I framed an utopia around myself as soon as I turned thirteen when I started blogging. Teenage is so merry and divine. What we do in this age takes the form of our mindset. This age is a crucial resource for planning our life.
How I Started Blogging?
The way I started blogging was not a exciting one. This is not my first blog. My previous blog was named
Just Chill
. I started it out in 2015. To cope up with new ideas I started this blog three months ago. I came up with an idea to blog when I read about it in the last chapter of my eight standard computer book. How I started my blog was just a matter of experiment, which is now my pride. I'm usually considered an introvert. Somehow blogging gave me voice. I'll remain thankful for this.
Why Do I Blog?
Why I blog is also a good question I need to answer. I developed my flair for writing when I was in seventh standard. However no newspaper published my story. I was disappointed. I later started blog out. 
Thank you Friends for perserving enough. You weren't bored I suppose? Were you? I come to know that many people are nowadays reading my blog. It's really interesting for me. But I will be more happy if this not merely a blogpost but a matter of discussion. Good communication is extremely necessary for better spread of ideas. You must post in the comments section that what were your memories which you cherish about for being special in your teenage? Something which gave you pride. Lets make this a platform preparing for changing the world and empowering the teens. Subscribe my blog if you feel I'm right at my place. Share this post on social media.